Think " Blank" Canvas - this will aid you when your doing a renovation, a remodel. Words to live by. I have learned. Do not make choices " of color" when your at your wits end, it is not in your favor, not in the long run.
A blank Canvas, I wish I had focused on, when I was choosing my everything during my renovation of my kitchen. It never dawned on me, that the kitchen colors chosen would be carried over to the rest of the main floor, my brain was focused upon putting " that room" as it became the nemesis, together for once and for all " to bed"- that I saw RED. I had chosen two other kitchen " layouts everything" prior, that were eliminated out of my control. My experience with my renovation was truly enlightening.
I had spent time, a lot of time, with professionals who specialize in such as kitchen remodeling to find out, it all was meaningless. All my choices that were of my found " Me" to be dissovlved, before my eyes. Not in my control. I was lied to, this to be never forgiven nor forgotten. I still think of the kitchen I initally picked out, that I wanted, only to find out it didn't exist. Not as I was offered, these places to provide the samples, to be purchased (cough).
I fell in gush with this color, it was not a yellow, it was not a green, it was called Shale. A luminescent glow of the " Moon" actually. No way near white. It was soft and effortless. I was in love. Once given the wood piece for the next 4 days, 6,7 hours spent each day " shopping, driving, calculating" I went everywhere. Pricing, calculating, thinking, planning. I came up with a granite counter, found the perfect flooring, I came up with a back splash, made of what looked like beach glass in neutrals tones of off not white, milky sugary sands, mixed with clear. All was right in the world of renovation. Right?
-
My granite found that complimented, this the pale version, of Saint Cecilia granite, it to have tiger stripes within of dark grays and charcoals,
it to have little nuggets of garnets, rubies and amethyst geodes to pop out against the Shale glow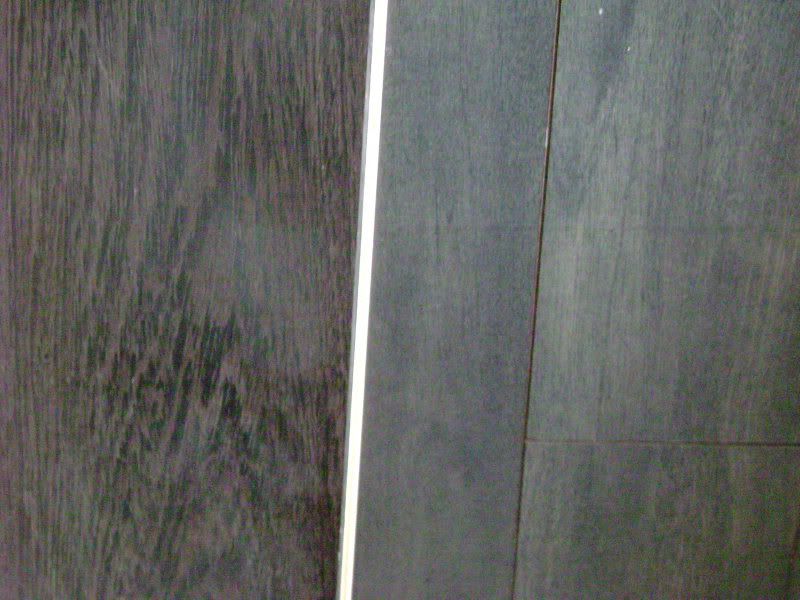 my original floor chosen was the color of pencil lead a brushed charcoal to the right the one to the left is my currant floor by process of elimination
Long story shortened, my designer failed to allow me to know that the Shale I chose, was not available in the door, line, I chose that was agreed upon, he to give me the sample, have me sign out the sample, he to have to hunt for it, did not key him in, that I said I was going to the granite houses, I was going to find the flooring to Go with the SHALE
- he said as I walked out, Have a nice day!
Didn't matter, the day I found out, that the Shale was not even in the equation, was the day I found out the cabinet place locked it's doors, and filed bankruptcy. Game over. Buh bye.
Next day ......
I went and called the supplier for the flooring to order it, the sample board of wood flooring that I had fell in love with, that I so wanted, that I had dragged with me for 4 solid days, matching and calculating. Go to order, on the phone, One ringa dingy, two ringa dingy,
Hello thank you for calling XXX, how may I help you? Wah Wah Wah Charlie Brown -response from customer service rep ..
"Um that flooring you picked out, I am not finding it in our inventory, Ma'am can you describe it?, okay, can you hold, yes,, Ma'am the flooring you have chosen, I am sorry, it has been discontinued going on 5 yrs now. Do you have an alternative you would like me to look up?
Enter Clark Griswald Again
No joke no lie
I set out and went that very morning with a fire burning, blue prints in hand, went to another cabinetry supplier, they of coarse did not carry the line, that offered the Shale. This company though to have options that I had not seen, the staff very attentive, detailed. The sales woman and I to spend with each other, my prints over 2 hours. Discussing, planning, etc. I felt confident that okay this war may be over. I was still ringing with, I wanted what I wanted, and did feel I was settling. I didnt' really have much choice, time was not on my side, my kitchen was on a timeline to be gutted. That night to make sure I was on track I went online to the website.There was no website, only a letter posted. A letter of thanks to all our customers of the past 50 years. As of midnight We have filed Bankruptcy and are no longer in business. The Truth. I was going to place my order that following morning, with this supplier. The gal called me at 7:30am the next morning, my house being ripped up by my guys and she said to me " I swear I did not know" she said I don't even know if I have a job as of today. She was beside herself.

George Carlin " Circling the Drain" I thought this has to be a cruel joke, It wasn't it was reality, it was the Economy surfacing it's ugly head in Metro Detroit, the independent suppliers, the Mom and Pops, being eaten alive, shutting down within days of each other, those in the same business. Kitchen renovations, Cabinetry, remodeling. Supplier number three, my plumber to see a new kitchen install, he grabs the business card for me, he says Go DO make a commitment, I do just that, I have two meetings at this new found supplier, the counter and the cabinet picked out, sink, within my samples.

I go back up to the supplier and I ask for my rep. " He's not here" okay, can YOU help me?, Sure but I do not sell cabinets I work in accounting. Can you find someone that can help me? No, there is no one here right now. Do you know when XX will be back ? No, I don't, he is out working on a important job, he is in the field. (lie, he was laid off without notice) Man comes in the room, he says HI ! like he is a caped crusader, I am "Mr, Suit My Needs" what can I do for you today?! He is one of the owners?, he knows nothing. He is thinking bottom line profit, me? I am no one to him but a signed check. NOW I AM PiXXED - he goes over my samples and calls the supplier to give me lead times, they to be so far out, he to tell me pretty much everything on my list is not available, I to find out too that the counter top I chose, was discontinued years ago. I cannot go home with this news. NO, my contractors would walk off the J.O.B. He takes me back into the room of " COLOR" samples, with all the hanging doors and samples allocated to each supplier, dedicated. He says THIS Line we can turn around in SNAP. If you choose from it, we can turn it around to fit your schedule. ( Lie) remember his bottom line was " check in hand" not customer service.
what emotion was running through my head that I chose this color, this to be installed
RED
It was not my first choice quoting Chris Rock and yes my cabinets are the color of Robitussin
When Your at your Wits End - no matter WHO it causes discomfort at that moment - Stop Think and Look at the Big Picture, your Money Works for you, it's not to be the other way around. Color affects our world, my world is my abode, that I live in. And Red was not a choice, it was a felt and I regret that day, I allowed others under my skin. To affect me, me to grab what I felt and yes I felt it, Red. The day the cabs were installed, I shook my head and I said ..what did I choose? I allowed others to remove me from myself. Do not let this happen to you. Choose your world around you, as you dream it. If your told No, keep going, find it, and when you do find it, apply it, you will find comfort and peace within. This is Priceless.